A quick glance into the Corporate Social Responsibility report of many organizations shows that almost all of them have a diversity and inclusion section, which often includes statements about being an equal opportunity organization that believes in the benefits of having a diverse team. For job candidates, the understanding is clear – it is a statement of assurance that should elicit the candidate's confidence in the hiring company's employment policies and practices. However, for organizations themselves the meaning and implication is blurry. 'Equal opportunity' could mean many things that range from being just a statement of 'best practice', a commitment to the good intentions of equal opportunity, or to actual actions that create the possibility of equal opportunities.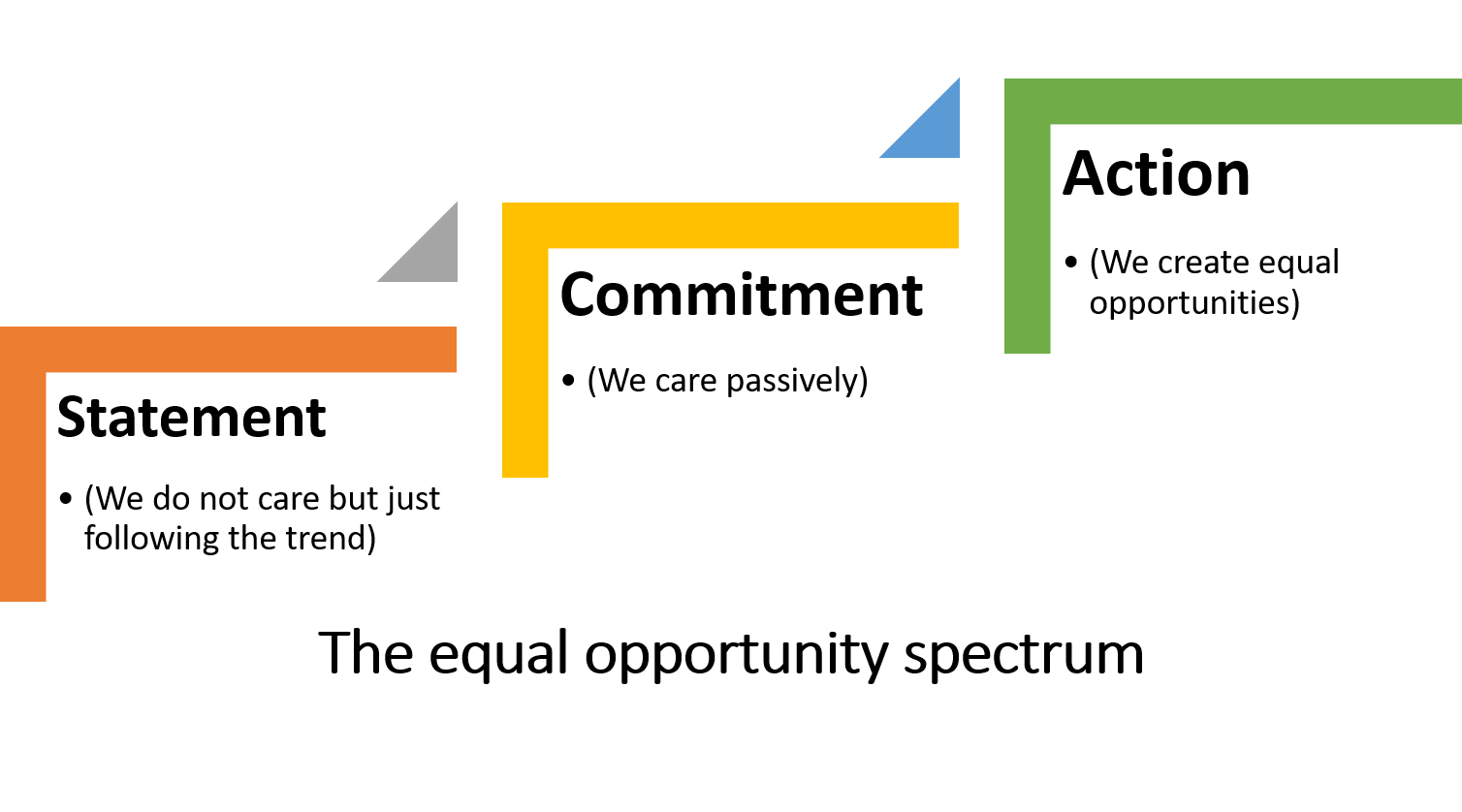 In the Norwegian professional life, diversity and inclusion statements almost always mean achieving gender balance in the workplace. When equal opportunity is seen as just a statement or a commitment with good intentions, Norwegian organizations might miss out on the documented benefits of having a culturally diverse team. The Norwegian society has so much to potentially gain when immigrants are able to find relevant jobs and prosper professionally.
So is equal opportunity enough to achieve this? Yes, but only when it is seen as a journey rather than a destination.
Equal opportunity as a journey is particularly important in the cultural context because unemployment in the immigrant population is about three times that of the non-immigrant population in Norway. The difficulty in 'competing' equally is not necessarily due to lack of education, professional skills or will, but sometimes due to certain barriers skilled immigrants face – especially if they moved to Norway as adults and during the early stages of relocation. Barriers, amongst others, include language, underdeveloped local networks, the need to learn local laws, systems or context and C.V. gaps that stem from long periods of an unsuccessful job search in Norway. These barriers vary in severity and are not limited to non-EU immigrants.
Whilst immigrants, individually and collectively, have the major responsibility for their own success, the general society has an important role in making this an easier process.
For businesses, creating equal opportunities for skilled immigrants in professional life starts with recognising the potentials of this group and then initiating barriers-reducing measures that could include combined language-job training, mentorship, training on software/systems that are local to Norway, networking days and other creative ideas that your company can come up with. A positive note is that public bodies like Kompetanse Norge, NAV, IMDi etc., provide both financial and non-financial support to business organizations that are willing to walk the talk. Inter-Nationals will be there to cheer you on!
Do you know any individual or organization that you think we should highlight here because they working to create better professional opportunities for skilled immigrants in Norway? Kindly drop us a comment or message us at contactus(at)inter-nationals.com. It is our hope that by highlighting these stakeholders, we will be able to inspire other to take action.
Does your organization need a sparring partner in developing effective inclusion strategies and actions? Reach out to us at contactus(at)inter-nationals.com